Financial review
Stor-Age was incorporated on 25 May 2015 and on 16 November 2015 the company's shares were listed and began trading on the JSE. The listing was implemented simultaneously with the acquisition and amalgamation of various self storage interests. The results reflect the trading results of the business for the 4.5 months from listing to year end on 31 March 2016, with key indicators coming in ahead of the listing forecasts set out in the prospectus.
A storage unit is rented to a customer on a month-to-month basis with a minimum one month term. The rental agreement continues indefinitely until the customer provides notice of termination. Although rental agreements are short term in nature, the average length of stay for existing customers was 20 months as at 31 March 2016. For storage facilities open more than five years, the average length of stay increased to 24 months. For all customers who moved out of the business during the full 12 month period ended 31 March 2016, the average length of stay was 13 months. This reflects a loyal and 'sticky' customer base. 15% of our customers by occupied space have been storing for over three years and a further 35% have been storing with us for between one and three years.
Self storage is a dynamic business, and in any month, customers move in and move out resulting in changes in occupancy and the average rental rate. The churn rate – the percentage of customers moving out each month – is approximately 5 – 6% and although this may vary between properties, it is generally consistent across the portfolio.
FINANCIAL RESULTS
The table below summarises Stor-Age's underlying results of operations for the reporting period compared to the forecasts set out in the prospectus:
Property revenue comprises rental income and other income.
Rental income for the reporting period amounted to R54.9 million in line with our forecast projections, and included an amount of R1.6 million relating to the rental warranty as disclosed in the prospectus. The warranty related to an undertaking provided by the former shareholders of Roeland Street Investments Proprietary Limited (which became a wholly owned subsidiary of the company on listing) to lease space from the company on the basis of overall portfolio occupancy of 90%. The rental warranty utilised during the reporting period was R1.6 million lower than forecast and, at 31 March 2016, a further R4.4 million was available to be used for future periods.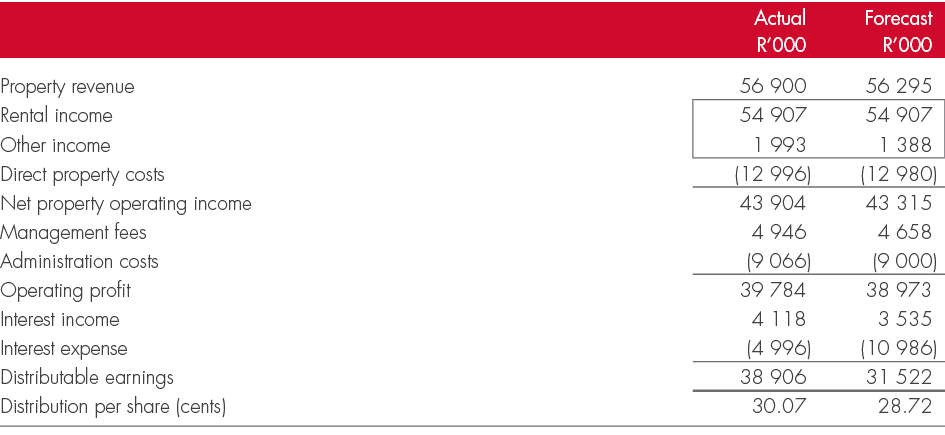 Excluding the rental warranty, rental income amounted to R53.3 million, 3.1% higher than the forecast projection set out in the prospectus and was underpinned by continued strong demand.
Rental income is a function of occupancy – the amount of space let to individual customers – and the rental rate charged for each unit.
The Listing Portfolio occupancy increased from 151 777 m2 (as disclosed in the prospectus) to 155 700 m2 at 31 March 2016, an increase of 3 923 m2. This translates into a closing occupancy of 86% at year end. Certain properties in the portfolio are in the final stages of their lease-up and their growth in occupancy in the reporting period was in line with original forecasts. The average rental rate for the reporting period was R75.4/m2, increasing 11.4% on an annualised basis from R72.60/m2 as disclosed in the prospectus to R76.30/m2 at year end.
Other income comprises ancillary income such as the sale of merchandise (e.g. packaging materials and padlocks), administration and late fees and other sundry income such as parking and income received from advertising billboards.
Direct operating costs comprise principally store-based staff salaries, rates, utilities, a full allocation of the marketing spend and other property related costs such as insurance, maintenance, IT and communications at a property level. The cost-to-income ratio is 22.8% and the spend for the reporting period is aligned with our prospectus forecasts. We remain focused on managing costs tightly.
Management fees comprise:
Property management and asset management fees charged on the Managed Portfolio; and
Acquisition and development fees charged on the development of new self storage properties.
These fees are marginally higher than forecast due to strong trading in the underlying properties for the period under review and development activity taking place earlier than anticipated. Administrative expenses relate mainly to support function costs for IT, finance, HR, property management, professional fees and directors' remuneration. These costs are broadly in line with forecast expenditure.
A dividend of 30.07 cents per share was declared, 4.7% higher than forecast in the prospectus.
DPS (Dividend Per Share) has been adopted as a measure for trading statements.
CAPITAL STRUCTURE
On listing, the company issued 139 404 002 shares at R10 per share raising total capital of R1.394 billion. R1 billion of the capital raised via the placement of shares was applied to settle debt at listing and R394 million was applied to settle vendor transactions as set out in note 21 of the financial statements. The board's policy is to have approximately 80% of total borrowings fixed. In November 2015 and March 2016, we entered into interest rate swap agreements for notional amounts of R75 million (fixed rate 9.52%) and R25 million (fixed rate 10.07%), respectively, both with a maturity date of 30 November 2018.
At 31 March 2016 the company's total borrowings amounted to R129 million with 78% (84% on a net debt basis) subject to fixed rates and total undrawn borrowing facilities of R521 million. The effective interest rate was 9.39%. The undrawn facilities provide sufficient headroom to fund potential acquisitions and growth in the short to medium term.
Net debt stood at R119 million at 31 March 2016. Given the negative outlook for interest rates over the medium term, the board strategically raised additional equity at the time of listing to reduce gearing to approximately 10%. Stor-Age currently has a conservative debt structure and a gearing ratio of 8.7% at 31 March 2016. The group is highly cash generative and surplus cash flow is placed in an annex facility linked to our borrowings or in short term money market accounts.
Net asset value per share at 31 March 2016 was R9.90 and the net tangible asset value per share at 31 March 2016 was R9.31.
INVESTMENT PROPERTIES
Investment property increased from R1.313 billion (1 October 2015 valuation including lease premiums) to R1.371 billion at 31 March 2016. The fair value adjustment to investment properties was R13.4 million and improvements amounted to R44.6 million. All properties in the Listing Portfolio were reviewed and valued independently by Mills Fitchet Magnus Penny (a registered valuer) at 31 March 2016. Further details of the basis of valuation are set out in note 3 of the financial statements and a summary of the portfolio is set out here.