Our business
Who we are and what we do
Our trading portfolio comprises 33 self storage properties across South Africa.
Stor-Age owns and operates 24 of these properties representing 181 342 m² of GLA – our Listing Portfolio. We manage over 14 000 individual leases with a churn rate of 5 – 6% per month and over 700 new tenants moving in each month. The balance representing 54 919 m² of GLA makes up our Managed Portfolio on which Stor-Age receives property and asset management fees. Stor-Age holds a pre-emptive right to acquire all properties in the Managed Portfolio, representing a significant growth pipeline.
We continue to focus on improving our operating platform and infrastructure to maximise revenue, reduce costs and ultimately deliver enhanced returns. At a property level, our people and the high quality, secure and convenient space (modern, purpose built and security systems) attract and retain a diverse customer base.
Sophisticated operations platform
Operationally Stor-Age consists of two elements: systems and people. Systems (including processes, controls and responsibilities) are clearly defined and set out in operating standards which ensure consistency across the business. The increased use of technology and automation to improve our systems and processes remains a key focus area. The 'people' aspect has been a strategic focus from the outset and we place significant emphasis on recruiting the right people and training, developing and managing our staff to achieve their highest potential.
We have invested significantly in developing a sophisticated and scalable management platform to provide centralised services and support across the portfolio. This offers economies of scale and cost efficiencies.
Our web-based tenant management system provides real time information on the operating and financial performance of each property. The system also has a unique built-in CRM tool which allows all enquiries to be logged and tracked (until closed) and management to monitor staff's efforts in this process remotely. Every month, more than 3 200 enquiries are recorded and followed up on.
Pricing is dynamic and varies according to unit size, demand, the stage of lease-up and location. In Stor-Age's 'Big Box' properties, the internal space can be reconfigured to produce variations of unit sizes in order to meet the demand profile and optimise the revenue streams from the property.
Brand strength
A key component of our growth strategy has been to develop Stor-Age into the market-leading self storage brand. Our focus on the location, visibility and quality of our properties, coupled with excellent customer service and a leading online platform, has successfully achieved this.
Our brand has been positioned at the quality end of the market and is well defined, distinctive and differentiated.
The high standards of the properties, people and convenient locations successfully attract customers who are looking for quality and value. Given that the growth in our portfolio is all in high profile locations, there has been a natural increase in brand awareness particularly from the 'Big Box' flagship properties. This trend is expected to continue with the introduction of new properties.
Stor-Age at our core
Stor-Age's Core Ideology consists of both our Core Purpose and our Core Values. Put simply, Stor-Age exists because we solve both people and business space problems.
We aim to actualise within a number of dimensions at the same time. Stor-Age aims to have purpose and profit, continuity and change, freedom and responsibility. We strive to respect our colleagues, our customers, ourselves and the organisation, which is greater than the sum of its parts.
Our four Core Values guide and inspire every single thought, action and decision: Excellence, Sustainability, Relevance and Integrity.
Our people
Stor-Age operates with a non-hierarchical structure and operations staff are pivotal to the achievement of our strategic objectives including driving occupancy, revenue and cash flow growth in the portfolio.
To foster a partnership culture within the business, management spends significant time at the individual properties and is accessible to staff at all levels. Our learning, development and training programme focusses on both core and soft skills to promote the individual development of staff, while our performance management system ensures that there are regular appraisals and feedback sessions.
Our property
Our property portfolio (including commitments) valued in excess of R2 billion comprises 43 properties in total (including our pipeline). This has achieved our initial five year goal to 2015.
Our portfolio is predominantly purpose built with a truly national footprint. The 43 properties are split between 33 trading properties and ten new developments in our pipeline. Our 33 trading properties will offer 236 000 m² of GLA once fully fitted-out, and provide for a further 20 000 m² of approved development bulk. Our pipeline of ten new properties offers further developable GLA of 74 900 m² on full build-out.
In defining our property strategy in South Africa, we identified the four main cities on which to focus and then the specific suburbs (including arterial routes) where we would like to establish a presence. This is not a restrictive or instructive strategy, but rather a guide whilst supporting our full business growth strategy.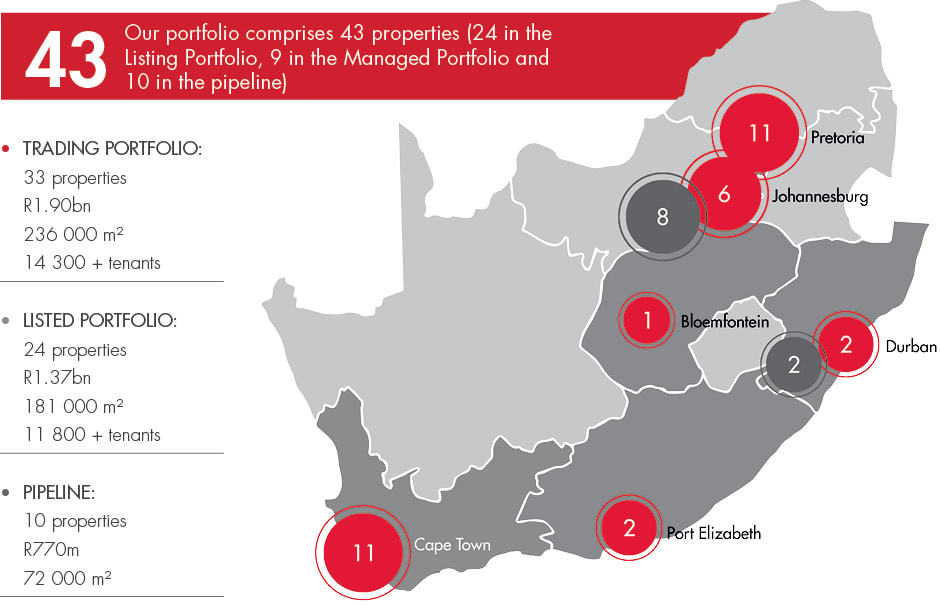 Maintaining our properties
As a customer-facing real estate business, it is paramount to maintain the quality of our assets by investing in a rolling programme of preventative maintenance, store cleaning and the repair and replacement of essential equipment.
We have a dedicated online platform for operational staff to log maintenance requests. Our National Facilities Manager manages the maintenance of our properties with the assistance of facilities management teams in each city in conjunction with store operations and area managers.
Our customers
Our customers comprise both the residential and commercial sector.
Sales, marketing and e-commerce
Our sales and marketing strategy continues to focus on driving customer response through multiple platforms, improving a user's experience of our website and by focusing on customer service and selling standards at the property level.
During the year we launched our IDEA marketing campaign. Conceptualised over a period of 20 months, the campaign centres on highlighting simple ideas about storage space, aiming to promote awareness of and educate consumers about the convenience and benefits of the product of self storage.
The IDEA campaign has been executed across all marketing mediums, including television, radio and billboard, as well as on our online platform. The campaign roll-out was further supported by a number of regional and store based activations.
We measure customer service standards through a programme of mystery shoppers and customer satisfaction surveys using our in-house 'My Experience Surveys' portal.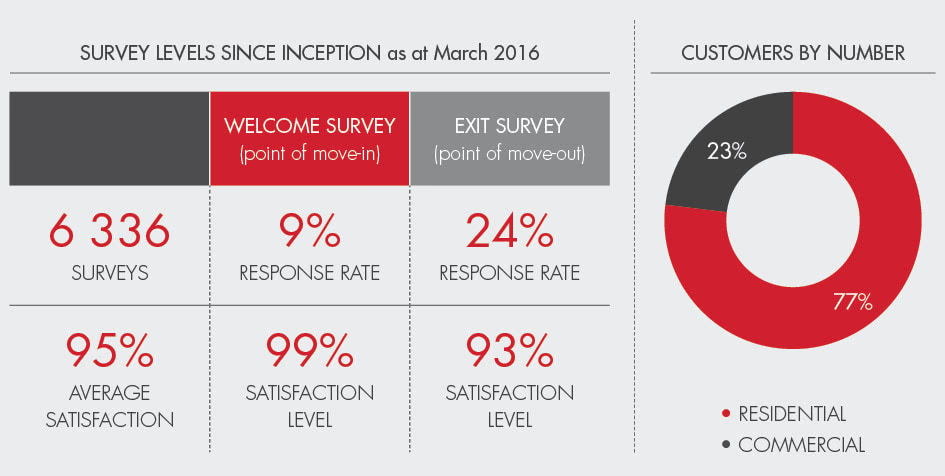 During the period we continued to shift focus away from a high number of 'smaller' regional and store level activations, to concentrate on improving our reach and impact on larger events. Along with this and in line with previously established trends, spend on our digital platform increased significantly during the period under review.
We have embraced the digital age in its entirety and we view our online platform as the experiential glue which binds previously separated media together. We don't view digital as a channel in the same way that a marketer might view television or radio as a channel. Rather we see digital as enabling a cohesive brand experience that wasn't previously on offer by creating unique and specific touch points based on where the customer is located and what specific online search term is used.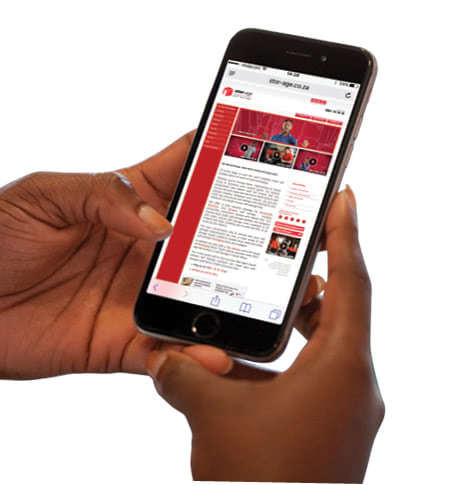 Our focus on internet technology and digital marketing has put us at the forefront of the industry and our search engine optimisation results maintain our leading ranking for the most popular and searched terms by using both paid for and organic listings.
Our e-commerce platform encompasses an online reservation system and real time pricing model allowing our online customers to seamlessly transition from obtaining a quote to moving in. This has improved the user experience and reduced move-in time, allowing operations staff to be more efficient. Enquires received on the online platform are integrated with the tenant management operating system to ensure that all enquiry details are recorded.
The Stor-Age website – whether accessed by desktop, tablet or smartphone – accounts for 55% of all enquiries. The telephone accounts for 27% of enquiries as the first point of contact and walk-in enquiries, where we have had no previous contact with a customer, accounts for 18%.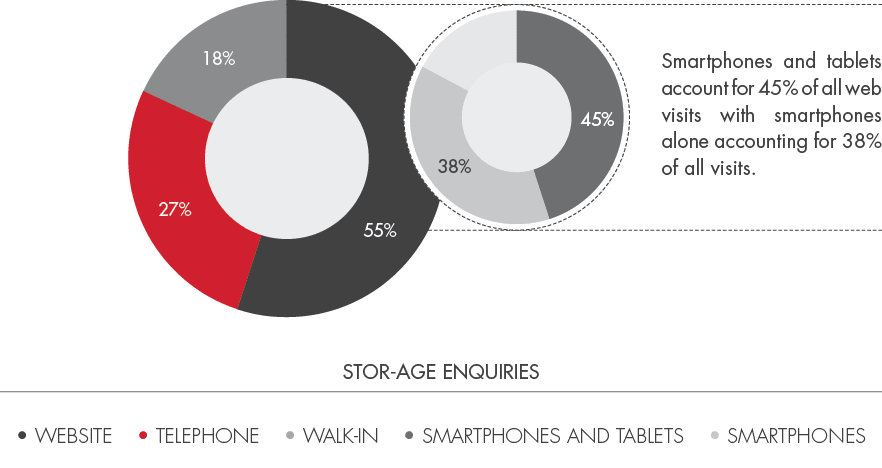 Social media is used as a complementary measure to existing marketing channels to further strengthen the brand. We are active on Facebook, Twitter, Instagram, Pinterest, LinkedIn, Google Plus and YouTube, with our major focus being on Facebook and Twitter. This enables us to heighten the awareness of Stor-Age online and also assists in creating a brand personality for Stor-Age.
Through specific Call-To-Action buttons and rapidly responding to user mentions or messages, we are able to engage with our customers in real time.
Our strategy on Facebook and Twitter has been to generate content which is relevant to the consumer in order to create interest indirectly related to Stor-Age. Stor-Age currently has more than 42 000 followers on Facebook, ranking us as the second highest followed self storage business in the world.
Our social media presence is also used to support community interactions such as The Color Run South Africa or to provide information when supporting charity initiatives such as the Santa Shoebox Project. By promoting these messages we align ourselves with the communities within which we operate and tie ourselves to social responsibility brand leaders in order to build positive sentiment.
Our well established, active, online brand personality and presence plays a crucial role in maintaining Stor-Age as the top of mind brand choice when people are seeking a space solution.