Integrated Annual report
2018
This is our third integrated annual report and our second for a full 12-month trading period. This report explains our strategy, our operating environment, the key opportunities and risks in our South African and UK markets, our financial and non-financial performance, and our expectations for the year ahead.
Who we are
Read more 
Stor-Age is the leading and largest self storage property fund and brand in South Africa, and the first and only self storage Real Estate Investment Trust (REIT) listed on any emerging market exchange. During the period, we made a strategic entry into the UK market with the acquisition of Storage King – the sixth largest self storage brand in the UK. Our Listed Portfolio comprises 50 properties across South Africa and the UK, with a combined value of over R3.9 billion.
CEO Report
Stor-Age is the market leader in South Africa and one of only nine publicly-traded self storage REITs globally. Our business model is based on global best practice and strong networks with leading first-world market peers. Since listing, our shareholders have enjoyed increasing earnings and dividend flows, supported by consistent growth net asset value.
The value of our portfolio has increased from R2.05 billion to R3.85 billion, and market capitalisation has doubled from R1.9 billion to R3.9 billion as at 31 March 2018. At the same time, the number of properties in the REIT has increased from 24 at listing to 50, all of which provides compelling evidence of business scalability.
Read more 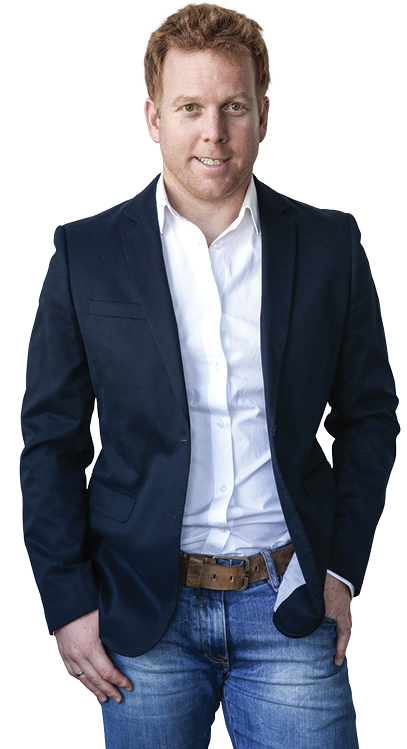 Trading portfolio size
405 000
m
2
| Up 105 000 m
2
Total number of tenants in Trading Portfolio
59
Our portfolio of stores is unrivalled in South Africa,
and comprises 59 properties across an
extensive national network.
TRADING PORTFOLIO:
49 properties
R3.5 billion
348 000 m² GLA
23 500+ tenants
LISTED PORTFOLIO:
36 properties1
R2.5 billion
264 000 m² GLA
17 000+ tenants
MANAGED PORTFOLIO:
13 properties
c. R1.050 billion
84 000 m² GLA
6 500+ tenants
PIPELINE:
10 properties
c. R1.0 billion
70 000 m² GLA
Trading portfolio Pipeline
Select a region on the map to view our stores
Free State
Listed Property Portfolio
Address: Sand Du Plessis Avenue, Estoire, Bloemfontein
GLA m2: 6 679
Value R'000: 25 700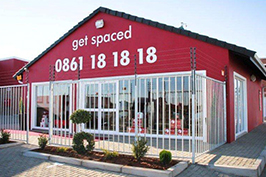 Eastern Cape
Listed Property Portfolio
Address: Plot 136 Old Cape Road, Port Elizabeth
GLA m2: 11 032
Value R'000: 59 000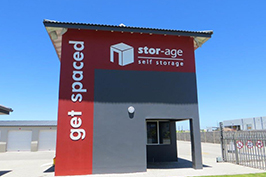 Managed Property Portfolio
Address: 85 Warbler Road, Westering, Port Elizabeth
GLA m2: 6 826
GLA (full capacity) m2: 9 393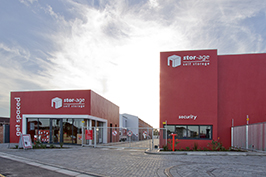 | | |
| --- | --- |
| 1 | Includes All-Store – acquired 6 April 2018 |
Our business
Stor-Age owns and operates 50 of these properties, covering 321 000 m² GLA – our Listed Portfolio. Stor-Age's other 13 properties cover 86 000 m² GLA and make up our Managed Portfolio, from which we receive property and asset management fees.
Read more 
Financial Review
The results for the year include the trading results for the full 12 months of Storage RSA and Unit Self Storage, while StorTown and Storage King have been included for part periods from their respective acquisition dates.
Read more 
Accountability and sustainability
Risk management is integral to the effective implementation of our strategy. We proactively manage risk to remain a competitive and sustainable business. This enhances our operational effectiveness and enables us to create continual value...
Read more 