Our Performance
Financial review
The results for the year include the trading results for the full 12 months of Storage RSA and Unit Self Storage, while StorTown and Storage King have been included for part periods from their respective acquisition dates.
FINANCIAL RESULTS
Revenue and earnings show significant increases from the previous year reflecting both organic growth and the impact of acquisitions. The total dividend for the year is 97.83 cents per share, an increase of 11.1% year-on-year. The group continued to deliver real gains in rental rates and occupancy driving sustainable earnings growth in a challenging economic environment.
The table below sets out the group's underlying operating performance of the like-for-like portfolio as well as of acquisitions for a more meaningful overview.

Like-for-like reflects the same store portfolio trading for a full 12-month period in both the 2017 and 2018 financial years' SA acquisitions include Storage RSA, Unit Self Storage and StorTown
Property revenue increased by 86.1% to R310.2 million and like-for-like rental income increased by 10.6%.
Rental income for the year was R295.4 million (2017: R158.8 million), an 86.0% increase on the prior year. On a like-for-like basis (i.e. excluding acquisitions) rental income increased by 10.6% from R155.1 million to R171.5 million, driven by a 1.8% increase in average occupancy levels and an 8.8% increase in the average rental rate.
Total occupancy in the South African portfolio grew by 27 200 m² over the year (organically 4 700 m²; Unit Self Storage and StorTown acquisitions 22 500 m²). The closing rental rate was R91.6/m². Excluding acquisitions in the year, the closing rental rate increased by 9.2%, reflecting our balanced approach to revenue management and occupancy growth.
The overall trading performance of Storage RSA (acquired on 28 February 2017) was in line with expectations. The integration of the business onto the Stor-Age operating platform has been largely completed.
Other income comprises licence fee income relating to the opening of new stores in the unlisted Managed Portfolio and ancillary income such as the sale of merchandise (e.g. packaging materials and padlocks), administration fees, late fees and other sundry income. Licence fee income of R1.0 million relates to the opening of the Randburg property in the unlisted Managed Portfolio in July 2017 (in the prior year, three new stores opened in this portfolio resulting in licence fee income of R3.0 million). Ancillary income of R13.8 million (2017: R4.9 million) reflects the positive contribution of acquisitions. On a like-for-like basis, ancillary income increased by 10.6%.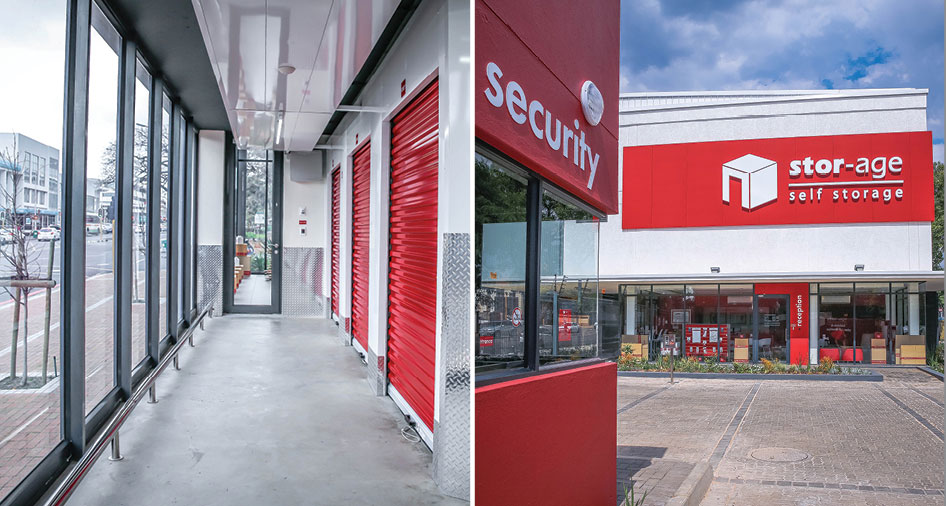 Direct operating costs comprise mainly store-based staff salaries, rates, utilities, a full allocation of marketing spend and other property-related costs such as insurance, maintenance, IT and communications at a property level. These costs are generally 'embedded' or of a fixed nature and, in the like-for-like portfolio, the weightings of the various components of the cost base were broadly consistent with the prior year. The increase in direct operating costs to R76.9 million (2017: R38.3 million) reflects the impact of acquisitions. The 6.7% increase in like-for-like operating costs is broadly in line with inflationary growth.
Net property operating income of R233.3 million (2017: R128.3 million) reflects both organic growth and the benefit of acquisitions. On a like-for-like basis, excluding acquisitions and licence fee income (considered non-recurring in nature), net property operating income increased by 11.8%. Stor-Age's increased scale and revenue growth, as well as a disciplined approach to cost management, translates into real earnings growth.
Storage King contributed R45.1 million to net property operating income. On an overall basis, earnings were materially in line with the forecasts set out in the September 2017 circular relating to the acquisition. Year-on-year net self storage rental income increased by 9.0%, including organic like-for-like growth of 6.2%, supported by a closing occupancy of 78.2% and rental rate of £21.13 per square foot at year end, marginally lower than at the acquisition date. The UK self storage industry experiences a higher degree of seasonality compared to the South African market, which sees a traditionally slower trading period in the winter months. Excluding the acquisition of the Crewe property, occupancy grew organically by 900 m² over the year to March 2018.
Management fees comprise property and asset management fees charged on the unlisted Managed Portfolio and development fees on properties being developed under the CPC structure. The management fees from the unlisted Managed Portfolio increased given the three new stores that commenced trading end-2016, the opening of Randburg in July 2017 and higher occupancy levels which drove higher revenue. In addition the CPC structure resulted in development fees of R3.9 million. Read more about the CPC structure.
Administrative expenses relate mainly to support function costs for IT, finance, HR, property management, professional fees and directors' remuneration. The increase in administrative expenses from R25.0 million to R36.9 million relates mainly to the Storage King acquisition and the full year support function costs for Storage RSA. Excluding the Storage King acquisition, administrative expenses increased by 18.7%, which is partly attributable to the underlying growth in the business, a greater investment in technology, centralisation and automation, and the employment of additional staff.
Interest income comprises interest received on the share purchase scheme loans (R10.6 million), cross currency interest rate swaps (R10.6 million) and call and money market accounts (R2.4 million). The increase in interest income from R13.0 million to R23.6 million relates mainly to the cross currency interest rate swaps entered into in November 2017 in respect of the Storage King transaction.
Interest expense comprises mainly interest on bank borrowings and the increase is due to higher average debt levels during the year and the GBP-denominated debt arising from the Storage King acquisition. Further details of bank borrowings are set out in Capital Structure below.
Profit for the year of R587.2 million includes a fair value adjustment to derivative financial instruments of R178.5 million (2017: R1.8 million expense), comprising a realised gain of R56.3 million on a forward exchange contract relating to the Storage King acquisition and unrealised mark-to-market gains of R122.2 million relating to forward exchange contracts, interest rate swaps and cross currency interest rate swaps.
CAPITAL STRUCTURE
Our financing policy is to fund our current needs through a mix of debt, equity and cash flow to enable the group to expand the portfolio and achieve our strategic growth objectives.
The group currently has South African loan facilities of R995.0 million available. The respective maturities of the various facilities range from December 2019 to November 2022 and accrue interest at an average margin of 1.29% below prime. Further details are set out in note 14 of the annual financial statements.
Details of the group's borrowings are set out below: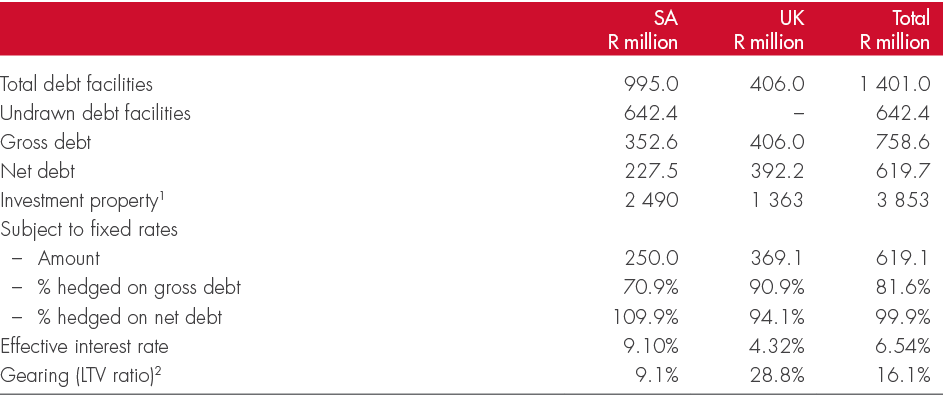 | | |
| --- | --- |
| 1 | Investment property reflected as gross investment property of R4 034 million less finance lease obligations relating to leasehold investment property of R181 million |
| 2 | LTV ratio defined as the ratio of net debt as a percentage of investment property (net of finance lease obligations relating to leasehold investment property) |
The acquisition of Storage King was structured with a £25.0 million LIBOR-linked facility. The facility has a five-year term and amortises by £2.0 million in the first two years and by £5.3 million over the subsequent three years, to a balance of £17.9 million by December 2022. The balance at 31 March 2018 was £24.5 million (R406.0 million).
The interest rate risk on the loan is hedged at 90% of the gross debt, in line with the amortisation profile, with underlying LIBOR fixed at 1.051%.
At 31 March 2018, Stor-Age's total gross borrowings amounted to R758.6 million (2017: R256.2 million) with 82% (2017: 78%) subject to fixed rates, and total undrawn borrowing facilities of R642.4 million (2017: R393.8 million). On a net debt basis 100% of borrowings were subject to fixed rates (2017: 82%).
The effective interest rate at 31 March 2018 was 6.54% (2017: 9.36%).
In October 2017 the group raised R1.276 billion of equity capital in an oversubscribed book-build to fund the Storage King and StorTown transactions. Stor-Age also conserved R116 million cash under the Dividend Reinvestment Programme.
The conservative capital structure reflected net debt of R619.7 million at 31 March 2018 (2017: R244.6 million) and a gearing ratio (LTV) of 16.1% (2017: 11.9%).
Net asset value (net of minority interest) per share was R11.49 (2017: R10.70) and net tangible asset value per share (net of minority interest) was R11.01 (2017: R10.21).
INVESTMENT PROPERTIES
Investment property increased from R2.050 billion at 31 March 2017 to R3.853 billion at year end. The increase related mainly to the acquisitions of Storage King (R1.711 billion), StorTown (R145 million) and Unit Self Storage (R42 million). The fair value adjustment to investment properties was R203 million.
The group's policy is to have one-third of the properties externally valued by an independent valuer each year and the remaining properties valued internally by the board, using the same methodology applied by the external valuers.
Further details on the basis of valuation are set out in note 3 of the annual financial statements and a summary of the portfolio.