Our business
Introducing Storage King
In November 2017 Stor-Age acquired a 97.3% interest in Storage King, the sixth-largest self storage brand in the United Kingdom.
The acquisition represented an opportunity to acquire a portfolio of well-located properties and a growth platform with well-invested infrastructure and an experienced management team. The team have considerable industry experience and a track record of demonstrable operational management, improvement and acquisitive growth.
26
Storage King operates 26 well-located properties throughout England.
Overview of Storage King
6th largest operator in the UK by number of stores
Owns 14 properties ('Core Portfolio') – nine freehold and five leasehold, with an average 14.5 year unexpired lease-term
In addition to the Core Portfolio, a further 12 properties trade under license of the Storage King brand, generating license and management fee revenue
Highly scalable, well-invested infrastructure and experienced management
Additional upside growth potential – operational cost savings and revenue enhancement
Well positioned to secure upcoming opportunities via long-established relationships with independent operators
Portfolio overview
Well located, with a bias towards the South-East and East
Near key market towns and major arterial roads

Average rental rate

£21.13 per sqf pa

Average store size

44 000 sqf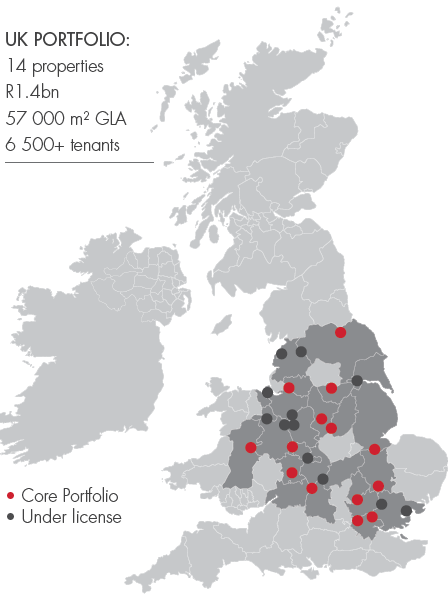 Exceptional platform opportunity
Established management team in place, with significant 'on the ground' experience
Established operating platform, high quality property portfolio and pipeline of opportunities
The UK market presents a strong growth opportunity.

1 505


Self storage properties, offering approximately 44.6 million sqf of space

76.1%


Occupancy on current lettable space

8.8%


Y-o-Y increase in total space occupied

29 600 sqf


Average size of store

44.6m sqf


Total space available to customers

2.4m sqf


Added in 2017, with 70 new stores added

30%


Properties owned or managed by large operators

48%


The UK holds 48% of total European self storage market
Occupancy and profitability growth indicates demand is growing faster than supply
Source: The Self Storage Association UK annual industry report, 2018
The UK self storage industry is well-established and competitive, however when compared to the US and Australian markets, it represents a relatively immature market with significant growth opportunities, supported by attractive sector fundamentals.