Our business
How we do it
Our sophisticated operations platform
We have invested significantly in developing a sophisticated and scalable management platform to provide centralised services and support across the portfolio. This offers economies of scale and cost efficiencies.
Our web-based tenant management system provides real-time information on the operating and financial performance of each property. The system has a unique built-in customer relationship management ("CRM") tool. This tool enables all enquiries to be logged and tracked until closed, with management able to remotely monitor employees' efforts in this process. On average, more than 5 000 enquiries are recorded and followed up every month.
Pricing is dynamic and varies according to unit size, demand, the stage of lease-up, and location. Internal space across all properties can be reconfigured to produce variations of unit sizes in order to meet the demand profile and optimise the revenue streams from the property.
Operationally, Stor-Age consists of two elements: systems and people. Our approach to each is summarised below:
1
Systems including processes, controls and responsibilities
Defined in operating standards across the business to ensure consistency and continuously updated for improvements in operating capability
Increasing use of technology and automation for continuous improvement and improved efficiency
Strategic focus from inception
Significant emphasis on recruiting the right people and training, developing and managing employees to achieve their highest potential
E-learning platform, Edu-Space, complements key face-to-face learning programmes
Incentivise outperformance at all levels
Developing our brand strength
Developing Stor-Age into the leading South African self storage brand has been a key strategic objective since inception. We have successfully achieved this through our focus on the location, visibility and quality of our properties, underpinned by excellent customer service and a leading online platform.
Our brand strategy is founded on big branding at properties in high-visibility locations on key arterials in densely populated residential suburbs with adjacent commercial and business corridors. Our Big Box properties are especially impactful in this regard.
Given the innate complexity and cost of online sales, our effective and innovative internet technology and digital marketing have enhanced our brand reach across our growing national and local store base, and allow us to spread our marketing costs over a growing platform. This has further raised the barrier to entry to competition.
Leading sales, marketing and e-commerce
We create unique touch points for our customers based on their location and which specific online search term is used. This enables us to create a cohesive, previously unavailable, brand experience for our customers.
Our search engine optimisation results maintain our leading ranking for the most popular and searched terms by using both paid-for and organic listings.
Our interactive and responsive website is continually refined and updated, enabling it to continue to gain traction and encourage web prospects to enter into our 'digital sales funnel' and convert into a sale. More than 80% of total web enquiries originate from smartphones and tablets. Our website is therefore designed to be simple and uncluttered.
Our e-commerce platform encompasses an online reservation system and real-time pricing model. This enables our online customers to seamlessly transition from obtaining a quote to moving in. This has improved the user experience and reduced move-in time for improved productivity.
The innovation has not stopped, and we continue to find different ways of using data analytics to acquire customers, enhance revenue and reduce our operating expenses – while providing a higher-quality experience to our customers.
A new smartphone-driven on-boarding process has been under development for the last six months. This will ensure that our customers receive a consistent user-experience, whether they interact with our brand in store or while browsing the web. It will also assist us to achieve a paperless in-store operating environment.
We have eight full-time employees based at our contact centre to support our sales strategy.
During the year we continued to execute our IDEA campaign. The campaign is predicated on simple ideas about storage space to educate consumers on the convenience and benefits of the product. The ongoing roll-out across all marketing mediums is supported by a number of larger regional and store-based activations.
We have embraced the digital age and regard our online platform (management and tenant) as a key differentiator and increased barrier to competition.
Contact centre performance



Social media remains a key marketing and CRM medium for the group. We are mainly active on Facebook (81 800 followers as at 31 March 2018, ranking us as the fourth most followed self storage business in the world) and Twitter, but also on Instagram, Pinterest, LinkedIn, Google Plus and YouTube. Through specific call-to-action buttons, we are able to engage with our customers in real time. Our well-established, active, online brand personality and presence play a crucial role in maintaining Stor-Age as the top-of-mind choice for a space solution.
We further use our social media presence to support community projects, such as the Santa Shoebox Project. Our #6BForMe campaign was launched across different social media platforms during the year to create national awareness of the water crisis facing Cape Town – read more about this in our case study. Refer to social sustainability for more detail on our other corporate social investment initiatives.
The Stor-Age website – whether accessed by desktop, tablet or smartphone – accounts for 57% of all enquiries. The telephone accounts for 29% of enquiries as the first point of contact. Walk-in enquiries, where we have had no previous contact with a customer, account for 14%.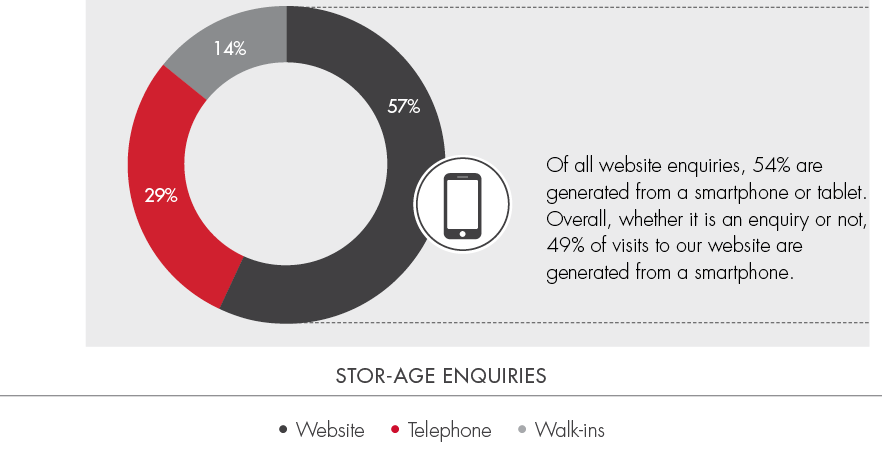 Measuring customer satisfaction
We measure customer service standards through a programme of mystery shoppers and customer satisfaction surveys using our in-house 'My Experience Surveys' portal.
In 2017, we changed our customer satisfaction measurement to NPS to more accurately gauge customer satisfaction. During the year, we received over 3 400 responses. The 'welcome survey' received a response rate above 7.4%, while the 'exit survey' received a response rate of over 19.2%. Our overall NPS for the year was 70. This indicates that our customer-centric approach is 'world class' when compared to global NPS standards and other consumer-facing businesses
Results and feedback from our customer satisfaction surveys drive our employee learning, development and training programme – read more about this in our acting sustainably section.
The operational strength and local market knowledge of Storage King's management team will be complemented by our digital marketing and e-commerce expertise. We have developed a comprehensive marketing strategy for Storage King, to be rolled out in the 2019 financial year. This strategy will include opportunities for the UK business to leverage off our sophisticated and leading operations platform.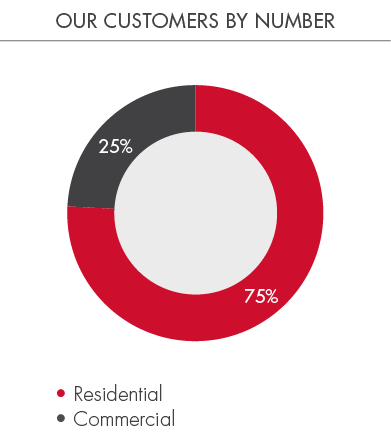 Our people
Stor-Age has a flat operational structure that recognises that our store-based teams are pivotal to achieving our strategic objectives, including driving occupancy, revenue and cash flow growth in the portfolio. To foster a partnership culture within the business, management spends significant time at the properties and is accessible to all employees.
Our learning, development and training programme, delivered online and in person, develops core and soft skills to promote individual advancement. Our performance management system supports this through regular appraisals and feedback sessions.
Our investment in a leading e-learning platform in 2017 (Edu-Space) has provided additional benefits to the business, such as increased flexibility, efficiency and productivity, as well as reduced costs. Our e-learning framework is outlined below:

26
In-house courses designed in 2018

947
Hours of online training completed in 2018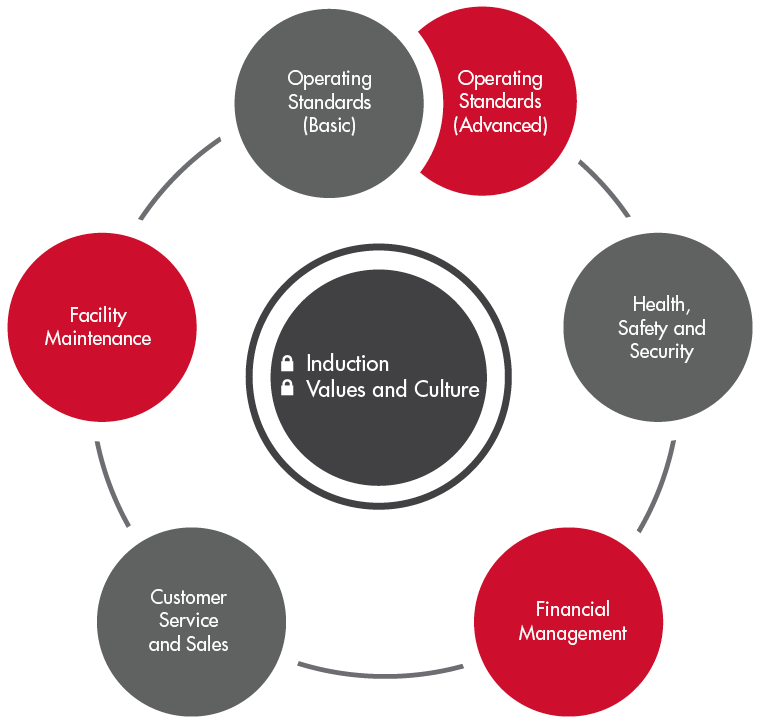 Ensuring secure storage
We aim to provide the ultimate in secure storage. This includes ensuring our customers' peace of mind when it comes to their personal security and the security of their possessions.
As part of our security measures, we perform weekly manual padlock counts for every unit at each store nationwide. This count is then reconciled to our customer records to ensure accuracy and identify any security issues that may arise.
Driven by our commitment to Excellence, we identified the opportunity to enhance this manual process during the year. We subsequently launched our new automated Digital Padlock Reconciliation – a digitised process that automatically reconciles to the operating system. This digital recon is performed on tablets by our store-based operations employees. An additional feature enables senior management visiting our stores to perform synchronised counts that overlap with existing reports. This ensures transparency and accuracy of results. In addition, the system significantly boosts employee efficiency.
Since the Digital Padlock Reconciliation has been rolled out, there have been more than 1 600 counts performed for just under 819 000 units.
Access to our storage facilities is automated and requires personal verification. Strategically located cameras provide CCTV surveillance, which is bolstered by alarm systems and electrified perimeter fencing, as well as infrared beams at certain facilities.
Enhancing our cyber security
In response to the global increase of ransomware and other cyber security attacks, we continue to enhance our layered network security systems to strengthen defences.
We have partnered with reputable, specialist service providers to ensure continued cyber security measures are maintained at the highest level. Together with a cloud-based approach for essential services, our information communication and technology objectives of avoiding redundancy, enhancing security and ensuring continuity, remain strategic priorities.
Our external and internal users are continuously monitored to ensure the most effective use of resources and to limit opportunities to breach the company's cyber defences. Our cyber security strategy, suppliers and network design are reviewed regularly to stay abreast of leading best practice and remain relevant in the use of technology.