Our business
Our growth strategy
Our growth strategy for the South African market
We conduct our strategic growth planning in five-year cycles. We are in the third year of the cycle ending 2020. We intend to grow the portfolio and enhance performance and investor returns by: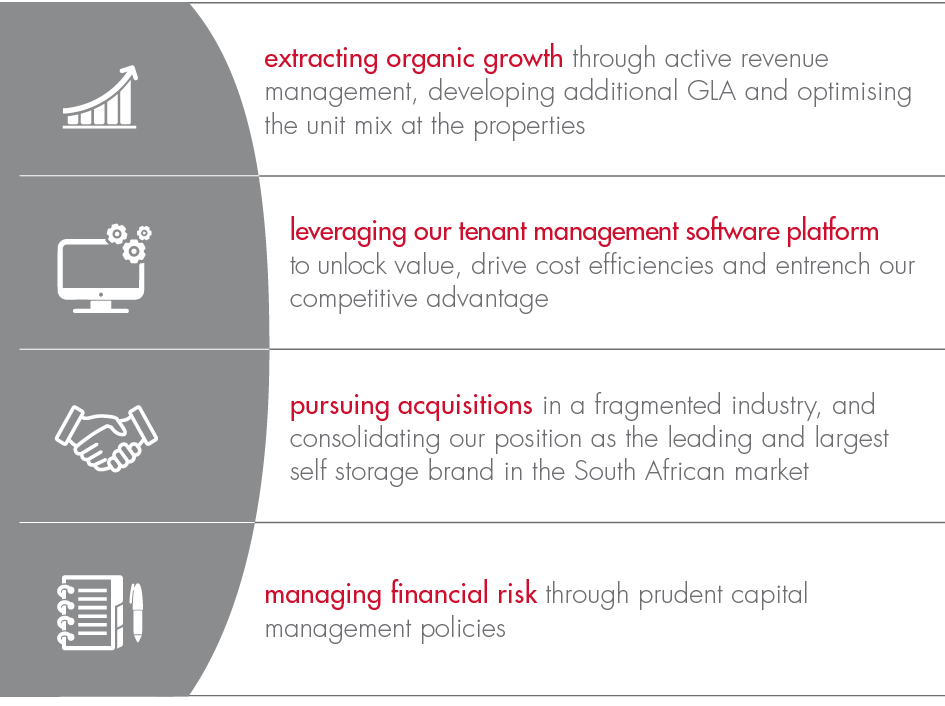 The strategy seeks to maintain Stor-Age's position as the leading and largest self storage property fund and brand in South Africa:
Largest store footprint
Quality stores – high-profile locations, urban, urban-edge and suburban
Visible, convenient and accessible
The benchmark for modern urban self storage development
To inform and optimise our strategy, we undertook four major research projects in 2015 focused on supply levels, anticipated demand, customer profiling and consumer demographics – the latter specifically to understand the emergence of the black middle class and its positive impact on the consumer profile.
Based on our research, we believe there is sufficient demand to develop a 60+ property portfolio across South Africa's major cities as part of our current five-year plan.
Our growth strategy for the UK market
Our business plan for Storage King is guided by our strategic and long-term focus on growing and optimally positioning our UK property portfolio.
Post-acquisition, we focused on key high-impact foundational areas to position Storage King optimally for future growth. This included identifying Stor-Age head office support services for full integration into the Storage King platform. In addition to the property strategy outlined below, we also developed and implemented a marketing strategy to boost Storage King's online visibility and drive the optimisation and reach of all marketing initiatives.
In the medium term, we have aligned our strategy for the UK market with our current five-year growth plan ending in 2020. The strategy seeks to grow the portfolio through a combination of acquiring existing self storage properties, and developing new properties in key target areas. We have identified a growth target of three to five properties per annum.
Key features of the growth plan include:
Acquiring existing self storage properties that meet Storage King's acquisition criteria:
Good locations in strategic and regional cities
Within/close to attractive urban or suburban nodes
Ideally within/close to a retail corridor
Ideally located with main road frontage to passing traffic
50+ independents identified
Minimum requirements targeted

30 000+ sqf maximum lettable area (MLA)
75 000+ population, 20 minute drive time
Developing investment grade self storage properties in prominent, visible, convenient and accessible locations:
Key locations in strategic and regional cities
Big Box (greenfield) – high density retail or commercial type nodes, within attractive urban/suburban areas and with main road frontage to passing traffic (typically multi-storey, three+ floors)
Conversions (brownfield) – conversion of existing buildings in retail or commercial type nodes in close proximity to dense urban areas
Minimum requirements targeted

45 000+ sqf MLA
100 000+ population, 20 minute drive time
Leasehold ownership
Storage King maintains a flexible approach to leasehold and freehold property ownership, which enables it to grow the business, secure prime locations and position the portfolio optimally.
While Storage King's approach to leasehold property valuation is based conservatively on future cash flows until the next contractual lease renewal date, it has a demonstrable track record of successfully re-gearing leases several years before renewal. Storage King benefits from the Landlord and Tenant Act, which protects its right of renewal except in the case of redevelopment. In addition, the vast majority of Storage King's leasehold properties are located in retail parks and/or have building characteristics that make their current usage either the optimal or best use of the property.
Furthermore, as property investors, Storage King's landlords value the quality of Storage King as a tenant and often extend the length of the leases in their portfolios. This enables Storage King to maintain favourable terms.
Ultimately, maintaining a flexible approach to leasehold ownership as part of a broader portfolio assembly strategy has allowed Storage King to operate from properties that would have been unavailable otherwise.
Our brand has been positioned at the quality end of the market and is well defined, distinctive and differentiated.